Tag Results: transparent
Therapies Son Free Instore at Origami Vinyl 4.21.11

Therapies Son will be performing a Free in store at Origami Vinyl in Echo Park, CA on April 21st at 7pm in celebration of the debut EP entitled Over The Sea available on 10" Vinyl on 4/16 as a Record Store Day release. Listen HERE
---
Altered Zones Features Therapies Son's Still I Call
Loving the cinematic swells on "Still I Call," the closing track on Therapies Son's debut Over The Sea EP, which you can now stream in full on the 19-year-old Los Angeles native's bandcamp. Think Broken Social Scene covering a lost outtake from The White Album, re-interpreted by a one-man-band with a soft spot for musical theater. —Emilie Friedlander, Altered Zones
MP3: Therapies Son: "Still I Call"
Over The Sea EP will be available for digital download on March 22nd via Sargent House, who are also prepping a 10" vinyl Record Store Day exclusive. On the 22nd, AZ contributors Transparent will be dropping the 10" in the UK
---
Altered Zones Features Therapies Son Video
Enjoying the pitch-perfect, Donovan/Lennon tribute vibes on this new track from Los Angeles 19-year-old Alex Jacob, who has been spinning guilt-free retro-pop gold under the Therapies Son moniker for more than a minute now. Footage from Altered States, HEAD, and 2001: A Space Odyssey casts a wonderfully sinister shadow over this walking-pace feel-good ballad, which probably won't summon images of centaurs, floating cruxifixes, and neon mermaids in itself, but might just convince you to "open your imagination, man." —Emilie Friedlander, Altered Zones
Over The Sea EP will be available for digital download on March 22nd via Sargent House, who are also prepping a 10" vinyl Record Store Day exclusive. On the 22nd, AZ contributors Transparent will be dropping the 10" in the UK
---
Therapies Son - Touching Down & EP News
Last month, Therapies Son was opening for Smith Westerns and Yuck, earning fans in both other bands (Yuck adored them) and certain journalists (see here). Thus, a distinct group will be quite excited to hear news of the artist's debut EP. The rest of you should hop on board while the tickets are cheap.
Titled Over The Sea, the five (or six if you buy digitally) song collection finds Alex Jacob using big ideas to hit the major touchstones of serious music listeners while still finding something unique to put forward. Check out the MP3 for "Touching Down" below and check out the track listing below that. Over The Sea is out digitally worldwide on March 22nd and 10" vinyl exclusive for Record Store Day on 4/16 via Sargent House. (UK Release 10" vinyl on Transparent)
---
Therapies Son - Yellow Mama
Psyched to share another nugget of purest gold from the forthcoming THERAPIES SON EP today. Strange, enchanted carnival vibes abound on "Yellow Mama", a joyfully ebullient, playful pop jam that picks up where the astounding TOUCHING DOWN left off – instinctively matching a powerful sense of childlike wonder to a truly sophisticated arrangement with almost scary effortlessness.
"Over The Sea" is out on March 15th in the UK through yours truly here at Transparent. And then Worldwide via Sargent House on April 16th, 2011
---
The Guardian UK - Therapies Son - Band Of The Day

Therapies Son
Alex Jacob is a wunderkind whose warped, synthy Americana nods to the Beach Boys and the Flaming Lips. And we love it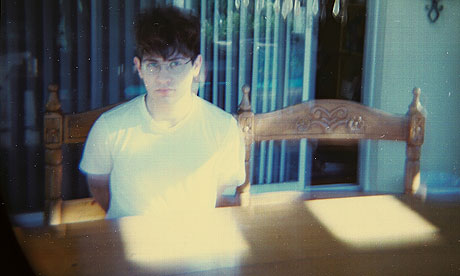 Hometown: Van Nuys, California.
The lineup: Alex Jacob (vocals, music)
The background: Here's another PC (post-chill) laptop-pop boy – and he is a boy, just – to file alongside the likes of the much raved about (around these parts anyway) Idiot Glee, Perfume Genius and Porcelain Raft. As opening sells go, that doesn't quite do 19-year-old Alex Jacob justice. Because the five songs we've heard by him really are staggeringly good. Our sincere apologies for liking – really liking – three new artists this week. We promise to find someone we hate soon.
Not today, though. Jacob apparently only began this pop-writing lark in November (what, the one just gone? Jeez) after he had his heart broken by a girl, he put the results on MySpace and within days his "little songs for friends" were all over the blogs. Soon, he was being offered a deal by Transparent, the label we keep mentioning so often people are going to start suspecting we're on the payroll.
We can see what Transparent saw in him. Like Perfume et al, this is fragile and DIY, but there's a bona fide talent here – we won't say "waiting to come out" because we dig the budget nature of it all as it is, just as we appreciate Jacob's Wayne Coyne via Tiny Tim vocals. Destiny presents our favourite new wunderkind as Brian Wilson and Van Dyke Parks in one person, his warped, synthy Americana nodding to the Beach Boys and Flaming Lips.

This music suggests all manner of suppressed fantasies and sublimated desires. Therapies Son? We're reminded of the story, possibly apocryphal, that they used to play the Beach Boys' Smiley Smile in psychiatric wards to calm patients. Jacob sounds as though he may be able to verify that one. On Rose Red Rose he sounds frail and a little damaged, but the music couldn't be more vital, the sort of showtunes-goes-psych, Broadway on Venus shtick the Lips do so well.
---