Tag Results: the 405
The 405 Interview: Chelsea Wolfe
Chelsea Wolfe has been a long time coming. Over the past four years, the Sacramento songstress has been staggeringly prolific, but it was with last year's Unknown Rooms: A Collection of Acoustic Songs that she first left her indelible mark. Now, with the release of her fourth LP, Pain Is Beauty, Wolfe has further refined her sound, stripping it of its most abrasive qualities and further exposing the bruised, gnarled heart at its centre.
Wolfe's progress from shy ingenue distorting her work to a songwriter with a cryptic depth of feeling and emotional command has been gradual but concurrent with her own battle with public introversion. The Pain Is Beauty sleeve, for instance, "represents an intense discomfort with being in the spotlight but also fighting to overcome that," according to Wolfe.
---
The 405 Album Review: Zorch's ZZOORRCCHH
Rating: 8/10
'What a day, let's celebrate it; I wanna feel elated!' runs the chorus (?) of the second track on the head-spinning mind fuck that is the debut album from Austin experimental pop mavericks Zorch- a track which bears the rather morbid title of 'We All Die Young'. Well, if that's the case, Zach Traeger and Shmu are going to go out with a bang.
---
The 405 Reviews Tera Melos' X'ed Out and loved it so much they wanted an Interview too


READ FULL ALBUM REVIEW HERE - Below is the interview
The new album from Tera Melos is quite an achievement, with the Californian trio finally settling into themselves on what is, incredibly, only their third album in eight years. The release of X'ed Out is an event in itself - it's been a fraction over 2-and-a-half years since the release of Patagonian Rats, but the band have released an EP and single since then in a relatively productive period. We at the 405 liked their new record so much that we decided to ask the band a few questions about it.
They're heading out on tour with TTNG in a few days, so we asked them about that, as well as plenty about the new record. Turns out they're not actually 'X'ed Out and Tired' at all.
Hi guys! How are you all feeling at the moment? Your new record is out soon - what's the mood in the Tera Melos camp? Relief, excitement, or something in between?
Right now we are in scramble mode to get ready for tour. I would say that the mood is one of impending doom with a bit of excitement thrown in. Kind of like riding a roller coaster for the first time after it has been re-opened because major repairs were done to prevent deaths. We haven't played in front of an audience since we were in Russia 9-and-a-half months ago and we are going to be playing a bunch of new songs, so thinking about that can be pretty daunting. Like, real deal human beings have been conceived and born since we last played a show. Added to that, we are a bit spread out, so we only get a chance to play together after plane tickets are purchased and time zones are adjusted to. So hopefully one can see why we could have a bit of nerves going back out there. Still, I think we are all really excited to be back out showing people new songs.
---
Album Reviews: The 405 & 402 Productions LOVE Fang Island's Major

An enigmatic fist pump, a rapturous applause, a shiny star on the front of your homework, Major by Fang Island is a victory for not taking yourself too seriously and for remembering that the roots of adulthood maturity are buried in childhood innocence. It's also a reminder that the best songs are sometimes simply the ones that have the guitar playing as loud as possible.
The success of this album is it's honesty. We are never over-promised anything by Fang Island, so when they over-deliver on several tracks, it's a delight. The opener, 'Kindergarten', is a jaunty piano loop under which foreboding melodies rise and break before singer Jason Bartell ushers us into the band's new album. So we take our seats, cross-legged on the floor, ready for whatever is about to be thrown at us. Major never runs out of steam, and manages to shift up the gears just at the right times, and those worried about the adjusted dynamic of the band (certainly vocals are much more prominent on this release), Fang Island manage to change it up at regular intervals throughout, keeping everything fresh as it hits our eager ears. Album highlight 'Seek It Out' reverberates with feelings of picking up a guitar for the first time and trying to play that rock song you saw on Top of the Pops once, where 'Never Understand' takes what would otherwise be a fairly standard piece of indie-pop, and overlays the melody with punchy guitar riffs, which keeps the song from feeling tired as it buoys along throughout.
---
Fang Island's debut New Track "Asunder" Recieving Raves From Everyone

"The Brooklyn party-rock trio Fang Island are about to return with their new album Major, the follow-up to their self-titled 2010 breakout. And "Asunder," the first track we've heard from the album, is a triumphant riff-rocker that sounds like a pure sugar-rush rendered in musical form." - Stereogum

"..With an aim to create an effort of non-stop, mega-sized hooks, the band is certainly off to a proper start with the album's first song, "Asunder". It's a majestic bit of prog rock, with grandiose guitars that dart up and down and anthemic vocals that swell with emotion without losing their Zen-like balance. - Consequence of Sound



"When Brooklyn-based party-starters Fang Island named their new album Major, we were fairly certain that it would offer hyper-caffeinated, unrepentantly sunny pump-up tracks. Those suspicions have now been confirmed by the arrival of the single "Asunder." Much like the material from the band's 2010 debut, "Asunder" is a surge of sugar-addled adrenaline that's lead by climactic drums, overdriven guitar licks and repetitive, chant-like vocals." - Exclaim!


"If you were worried that the gap between their debut album and their new album would lead to change in direction, fear not; this is the Fang Island we love. Listen to 'Asunder' and prepare to kick the living crap out of the air around you.' - 405

(Source: sargenthouse)
---
This Town Needs Guns Live Reviews From Truck Festival UK

"…Essentially, though, we were just killing time until the two best acoustic performances of the weekend. The first, perhaps unexpectedly, was This Town Needs Guns, a band not easy to imagine in a stripped-down fashion. Playing in the festival merch tent/record store with just an acoustic guitar, bass, vocals and very occasional glockenspiel, we were treated to different interpretations of "Crocodile" and "Badger" (I think) from Animals and their older live staple "Want to Come Back to My Room and Listen to Some Belle and Sebastian?". It was '"Zebra," however, the rarely-played, eerily gorgeous glock-led closer to Animals that made the short set worth sitting bunched up on the floor of a sweaty tent for, along with tour stories about Native and, as always, Tim Collis' almost inhuman talents. "

"… there seemed to be a real air of excitement from everyone in the audience about seeing - This Town Needs Guns. Truck regulars who keep getting better, they write intelligent and challenging music for the masses. Although seeing a ridiculous number of crowd surfers and a real good-natured moshpit break out to them was the last thing to be expected. But it was a sight, and indeed a band, to
behold.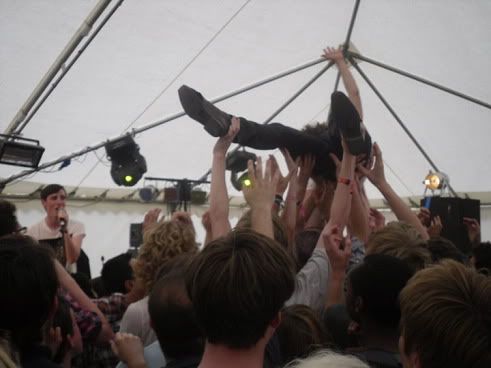 ---
GOOD OLD WAR: The 405 UK Review
GOOD OLD WAR - GOOD OLD WAR
Written by Matthew Olmos
Label: Sargent House
Release date: July 1, 2010 (Europe)

When confronted with any artist from the Sargent House family, the first thoughts are the math rock blasts of Tera Melos or El Grupo Nuevo, the post-rock/metal washes of Russian Circles and Red Sparowes, or the What-The-Fuck awesomeness of bands like Fang Island and bygones. And while all these bands are things I love and part of the reason why Sargent House gets respect, it still remains a ballsy move to take the indie folk band Good Old War on to the roster. Not only does the band manage to carve out a niche on the label with their second offering (a self-titled disc), Good Old War manages to become a distinct voice in indie folk with impressive consistency in song writing, delivery, and ability.

---
THE 405 REVIEW: Lisa Papineau
LISA PAPINEAU – RED TREES
Label:Sargent House

After having been in one of the best (and sadly unknown) bands of the 90s (Pet, for those keeping the score at home) and after guest starring in way too many bands (this woman is a proper genre hopper), Lisa Papineau delights us with a second solo album, Red Trees.
It's perhaps this genre hopping knack that the lovely Ms. Papineau has that allows her to create some distinct sounds, like mixing electronic music with accordion (!) without losing her style ('White Leather Pants') or singing in French ('I dream of red trees') in a soothing, almost dream like manner.
In fact, the whole of Red Trees is like a dream, a lucid dream with a minimum amount of instruments, where the voice sometimes gets blurred (or processed), becoming another instrument that just intertwines with an accordion or a simple keyboard progression (the chilling 'Sorry I cannot English').

---